Protocol Security Services are in 2022 actively recruiting private investigators in the Republic of Ireland and Northern Ireland. We are looking for talented investigators who want to build a career in the private investigation industry, who want an interesting job, flexible hours, and job security in a high-demand industry. Click here to apply.
Why join us?
Private investigation is an industry that can barely keep up with demand. We are in a period in Irish history where fraudulent insurance claims are at an all time high, which massively inflates premiums. In addition, many companies, big and small, are recognising the value that private investigation services provide.
As a private investigator working for PSS, you will have almost complete control over how you investigate the subject and you will be free to develop your own methods that will over time develop into a distinctive investigative style. Importantly, you will also choose your own hours, whether part-time or full-time. There are very few jobs that allow this degree of autonomy.
As a new agent, you will initially need to be acquainted with the work. PSS will train you if you are inexperienced, sometimes in a group of other recruits. You will work under our PSA license, which allows you to work as a private investigator in Ireland.
This job is very enjoyable to people who like working outdoors and in different places every day. If you like gathering evidence and making a case, this job is the more active counterpart of a career in law. Finally, if you are interested in occasionally taking part in a diverse range of joint covert operations, this may be the career for you.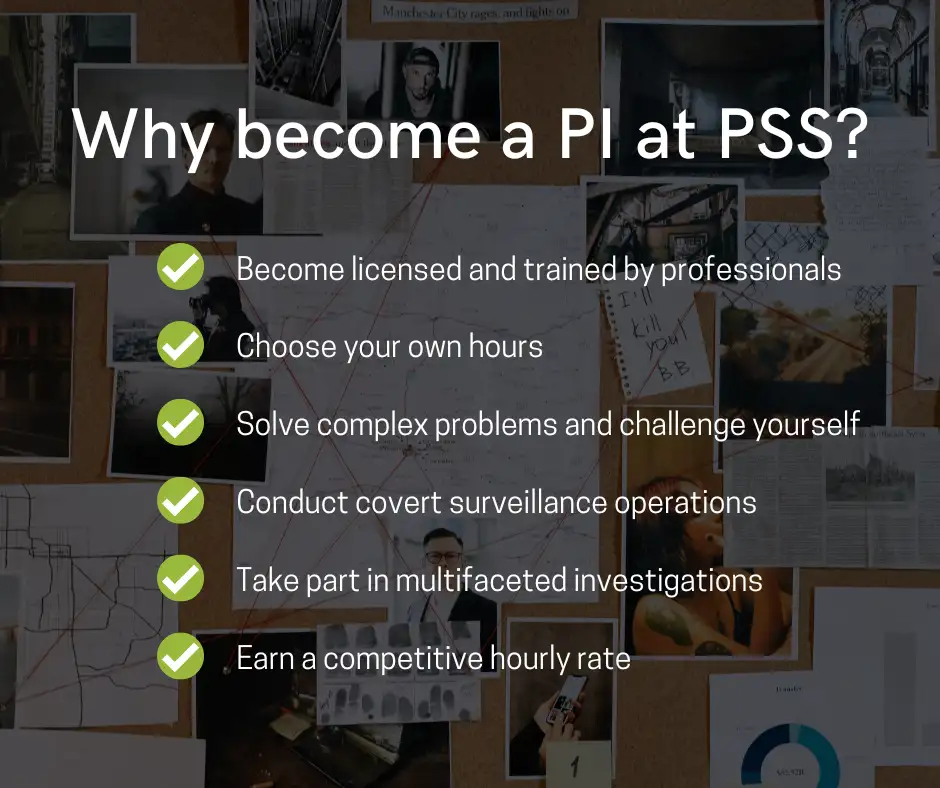 Job Specification
Responsibilities
Conducting fixed and mobile surveillance.
Obtaining and processing photographic or video documentation of subjects.
Conducting scene investigations and recording statements.
Drafting clear and detailed investigative reports.
Collaborating with other agents and HQ on joint operations of various natures.
Requirements
Valid Irish Driver's License.
Willingness to work varied and irregular hours.
Possess or willing to acquire the following items:

Reliable vehicle.
Covert camera.
Digital video camera.
Ideal Skills and Experience
Military or Law enforcement experience.
Already a licensed private investigator.
Research background.
Proactive and strong attention to detail.
Commitment to accuracy.
Third-level education in related field.
About Protocol
PSS was founded by Mark Blackwell in 1992. Mark was formerly in the elite Irish Special Forces unit known as the Army Ranger Wing, and he brought his skills to clients around the country before expanding the firm. The current Director of PSS is Elaine Ward, a specialist in Business Intelligence and White Collar Crime, who has been working in the industry for more than 20 years.
PSS has built an impressive reputation over its 30 years of business. We are known for our high standards of quality in all aspects of our operations and have been hired by almost every insurance company in Ireland. We also work with legal companies, businesses and corporations in a variety of different ways.